Restoring Your Smile With Dental Implants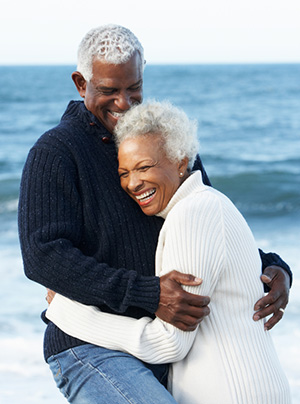 Missing a permanent tooth is not unusual but can create problems with eating, speaking, and bone density. At Wilkins General and Restorative Dentistry, we provide dental implants that can help you regain the functionality and aesthetics of your smile.
Our dental implants are a more permanent solution than a dental bridge or traditional dentures. With the current advancements in implant dentistry, we can give you a strong, durable tooth implant that can improve your lifestyle.
Dental implants consist of a titanium post that is placed in the jaw for stability. The placement encourages bone growth as well, improving facial structure and increasing strength. The post acts as the new tooth root and provides an anchor for the dental crown.
Each dental crown is designed to look and perform like a natural tooth. When you come to our office for dental implant restoration, you can count on our skill and experience to give you a beautiful, functional smile.
Benefits of Dental Implants
Dental implants can provide many advantages over traditional dentures, including:
Increased ability to chew and speak.
Encouraging jawbone growth and integration.
Easy cleaning with regular brushing and flossing.
An attractive, natural look.
Another reason combining a dental implant with a dental crown is a great option is because this combination replaces the entire tooth. Not only does a dental implant improve the look of your smile, but the implant can improve your overall health as well.
The Dental Implant Procedure
The dental implant procedure has several steps, but we will help you throughout the process.
Consultation with Dr. Wilkins – You'll come into our office and talk about your options with Dr. Wilkins and our team.
Dental Implant Placement – The titanium post dental implant is placed by a specialist.
Healing Period – The dental implant will usually need a few months to heal and allow the post to fully integrate with the jawbone.
Implant Restoration – You'll return to Wilkins General and Restorative Dentistry to receive your crown and finish the implant process.
Enjoy – Now that your tooth is restored, you can show off your beautiful new smile!
Although this process can take time, we are here to support you and answer your questions until your smile is fully restored!
Implant Dentures Vs. Traditional Dentures
Did you know you can combine the benefits of implants with dentures instead of crowns? Dental implants can do so much more than replace a single tooth.
While traditional dentures may still be a good option for some patients, implant dentures can give you a stability and permanency that traditional dentures cannot. Several titanium posts are used to anchor your dentures to your gums, giving your dentures the strength of natural teeth without having to worry about shifting or clicking.
Call Today To Schedule A Consultation
If you're interested in a tooth implant that can restore your smile for years to come, call us today to schedule a consultation with Dr. Wilkins. Our team can also answer any questions you have about the dental implant process.