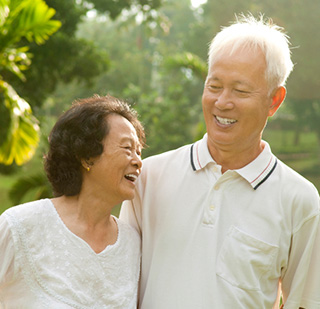 Dr. Ron Wilkins has over 30 years of experience in restorative dentistry, and we want to share our advanced dental techniques and treatments with you. If you have damaged or missing teeth, our team can produce excellent restorative dental care.
Why Restorative Dentistry?
A restorative dentist is trained to repair and replace your teeth. Your teeth can become damaged as you age, when you are injured, or simply because old dental work is wearing out. We want to help you attain a full, beautiful smile again with our variety of restorative treatments.
Restorative dentistry includes orthodontics, dental implants, crowns, bridges, and dentures. Many restorations often need more than one type of treatment, which is why we provide comprehensive exams and consultations for our patients.
Tooth-Colored Fillings
With our tooth-colored fillings, we can repair your tooth without having to use metal. These fillings are made to look like your natural teeth, and we can even color-match the composite filling so it blends into your beautiful smile!
Dental Bridges
Have you lost a tooth due to infection, injury, or trauma? Our dental bridges are a great restoration option to replace missing teeth. Dental bridges are anchored on either side with dental crowns that attach to the surrounding teeth. Filling in the gap can keep your teeth from shifting over time and can also restore your bite.

Dental Crowns
We use dental crowns for protection after a tooth has sustained sufficient damage. Teeth occasionally break or become weakened over time, but we can restore strength and stability with a dental crown. Our team can also place a dental crown for cosmetic purposes, providing better shape, alignment, and color for a tooth.
Dental Implants
Dental implants are a more permanent tooth replacement option for patients who qualify. An implant utilizes titanium posts and dental crowns to create a functional yet beautiful tooth. Dental implants also encourage jawbone regrowth to improve the health of your bone structure as well as your teeth.
Schedule an Appointment Today
If you have damaged teeth and would like to talk to us about your restoration options, call us to schedule an appointment today. Our team can answer your questions and provide additional information about restorative dentistry.