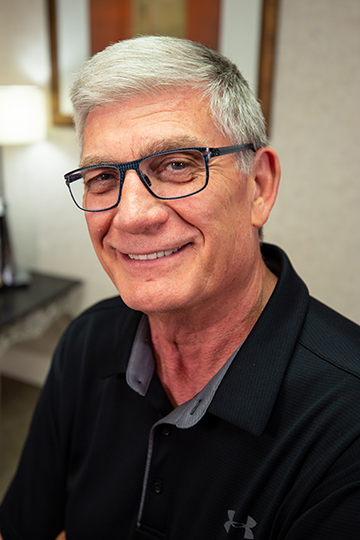 Dr. Ron Wilkins is a dentist committed to providing his patients with the highest level of excellence in comprehensive general, and cosmetic dental care. With the support of his friendly, dedicated and well-trained team, he is able to deliver an exceptional level of cosmetic and complex dental care.
Dr. Wilkins graduated from Hillcrest High School in Midvale, Utah. He earned his Bachelor's degree in Biology from Westminster College in Salt Lake City. He then received his Doctor of Dental Surgery degree from Georgetown University School of Dentistry in Washington, D.C. After graduating from dental school in 1981, he started his practice in Salt Lake City.
Throughout his entire career, Dr. Wilkins has constantly taken continuing education courses to improve his knowledge and keep up with the many advances in the dental profession. He has studied with some of the finest teachers in the field of restorative dentistry. This has included training in implants, cosmetic dentistry, treatment planning, advanced restorative dentistry, endodontics, dental sleep medicine, and digital dentistry. Dr. Wilkins has also had several articles of his own published in dental journals.
Since 2006, he has been a Clinical Instructor at the prestigious Kois Center in Seattle, Washington. There, he helps other dentists from around the world improve their restorative dentistry skills as taught by Dr. John Kois.
Dr. Wilkins and his team, bring a unique level of caring, training, and experience to the treatment of their patients. "Our primary goal is to develop a trusting relationship with each of our patients. Within that relationship, we can help our patients get the dental care they need and desire."
Dr. Wilkins is or has been a member of the following organizations throughout his career:
American Dental Association
Utah Dental Association
Academy of General Dentistry
American Academy of Cosmetic Dentistry
American Academy of Dental Sleep Medicine
The Kois Center